User(s) browsing this thread: 1 Guest(s)
L.A Noire won't launch anymore
07-03-2012, 08:02 AM
L.A Noire won't launch anymore
I just recently bought L.A Noire The Complete Edition Retail version 3 days ago and the game installed perfectly as I disabled my anti virus and firewall for the patch to work. The game was running well without any problems but then the next day I clicked the launcher and all of a sudden the game wouldn't start any more I've tried everything, from re-installing to applying the solutions I found on google to no avail and I just noticed that the DX 9 and 11 drop down option disappeared from the options menu on the launcher like this: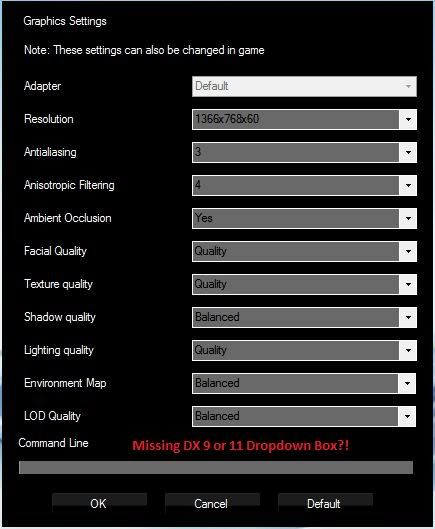 After pressing launch the splash that usually comes up also disappeared and does absolutely nothing. I hope someone could help me with this I'd really appreciate it.
My specs are:
Operating System: Windows 7 Home Premium 64-Bit
Processor: 3rd Generation Intel Core i7-3610qm 2.3GHz
GPU: 2GB NVIDIA GeForce GT 630M
RAM: 4GB
HDD: 650GB
07-03-2012, 10:58 PM
Juancho
Recruit

Posts: 7
Joined: Nov 2011

RE: L.A Noire won't launch anymore
The same thing happened to me, out of frustration, I just bought the game again, from steam. It's currently $15. Thats how I solved it, and I am now nearly finished.
03-19-2013, 04:06 PM
RE: L.A Noire won't launch anymore
(07-03-2012 08:02 AM)

cha2x1447 Wrote: I just recently bought L.A Noire The Complete Edition Retail version 3 days ago and the game installed perfectly as I disabled my anti virus and firewall for the patch to work. The game was running well without any problems but then the next day I clicked the launcher and all of a sudden the game wouldn't start any more I've tried everything, from re-installing to applying the solutions I found on google to no avail and I just noticed that the DX 9 and 11 drop down option disappeared from the options menu on the launcher like this:
After pressing launch the splash that usually comes up also disappeared and does absolutely nothing. I hope someone could help me with this I'd really appreciate it.
My specs are:
Operating System: Windows 7 Home Premium 64-Bit
Processor: 3rd Generation Intel Core i7-3610qm 2.3GHz
GPU: 2GB NVIDIA GeForce GT 630M
RAM: 4GB
HDD: 650GB
DX 9 missing means you have to install DirectX 9